SHARON CALLAGHAN
Privatising Protest
It isn't always major sell offs or transfers of public resources into private ownership that is at the heart of privatisation.
It can be small steps that slowly but surely erode our shared resources and services that take us down a slippery slope to privatisation. Our social relationships and community life can transform under the influence of a business for-profit model common to many private entities.
Take the 'user-pays principle' that can sound fair but often hits hard those who are struggling financially. Our Medicare co-payment system charges patients some of the medical costs and can deter those on low incomes from going to doctors or specialists.
Then there is 'outsourcing' where parts of a job or service can be transferred to another entity usually making what remains vulnerable to being sold off. When Fairfax Media moved sub-editing and production from regional newspapers in Australia to a related subsidiary company in New Zealand, many jobs were lost in Wollongong and elsewhere as well as grassroots connections with local newspaper workers.
Casualisation of the workforce or short-term contracts can flourish in profit-making enterprises. Casual workers often have little connection to a physical office, colleagues and workplace support. The current gig economy with lone workers doing 'gigs', like deliveries, takes us back to the days of 'piecework' where for example, a home-based machinist was paid for each item produced. No contact with other workers, low rates of pay and dodgy work conditions. Pieceworkers regularly suffered repetitive strain injuries trying to make enough to live on. Many casual workers have multiple jobs, don't accumulate leave and worry their job won't be there from week to week.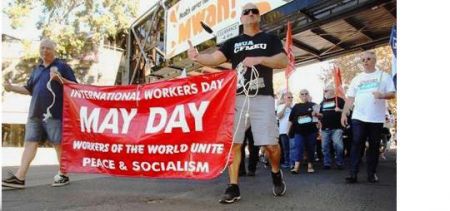 Insight on the slippery slope to privatisation came when May Day marchers took to the public streets of Wollongong in 2017.
Our town has a long proud tradition of marching on International Worker's Day. Local police facilitate the Illawarra parade of workers with their union banners and flags. The Illawarra Pipe Band, in Wallace tartan lead the teachers, nurses and midwives, community service workers, academics, fire fighters, transport and electrical workers and many more. As upbeat as the May Day can be, marchers know the human cost when workers don't have decent wages, safe workplaces and basic human rights whether at work or not.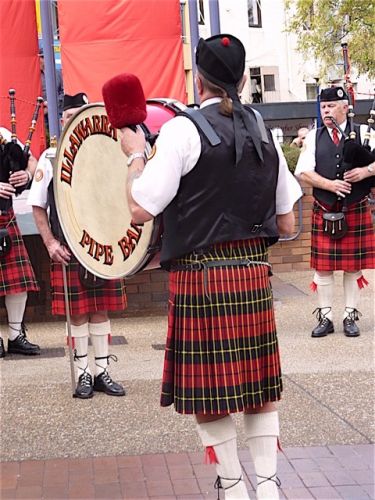 In 2017 Police NSW required the Wollongong May Day committee to pay for privately operated traffic management as police would not be marshalling the parade.
It seemed both Wollongong City Council and NSW Police believe public gatherings need upgraded security and traffic management in keeping with heightened terror threats.
I was puzzled, after many, many years of local police facilitating the Wollongong May Day March, why would they not show up in 2017?
Of course money was part of this turn of events.
The first thing to know is, the May Day Committee and South Coast Labour Council (SCLC) have very little money and could never afford to pay for private traffic management.
In 2017 the Illawarra Mercury reported that Corrimal RSL cancelled their ANZAC (Australian New Zealand Army Corps), parade, as they could not afford to pay something like $20,000 for private security and traffic management to comply with state government requirements.
So what is going on here?
Well, the NSW Police Force has a 'Cost Recovery and User Charges Policy' with various categories of user pays and some exemptions. The policy could have the May Day March as a special, cultural or annual event, and possibly attracting fees.
Hundreds of 2017 May Day marchers responded to the news that the police were not showing up by agreeing to be a group of people strolling down town. The 2017 large street stroll was strikingly similar to a May Day march!
At the last minute the police showed up.
However authorities choose to define the May Day March, the head of our regional union movement, Arthur Rorris, worries the commercial elements of the NSW Police's work means wealthy groups or individuals can easily purchase services from the publicly tax-payer funded police service/force. Unfunded, grassroots activist groups holding a May Day or International Women's Day march, generally couldn't afford to purchase police services.
'Besides', asks Rorris, 'haven't our taxes already paid the NSW Police wages and paid for the public spaces we want to use?'
Community members seem to be paying regularly while subject to many restrictions.
Rorris fears increasing authoritarianism designed to protect commercial private interests.
The fear is the NSW police decision makers could expand their 'user-pays' system to private interests that want to pay for information or other police services.
The May Day March fee for service means activists are constantly entangled in an inconsistent and confusing user-pays system that could make peaceful protest into an unlawful gathering. The basic right to protest can easily evaporate under a user-pays or fine system.
So while a Wollongong worker wonders why fees apply to their May Day march, the Sydney Morning Herald reported QANTAS made $1 billion profit last financial year but has paid no corporate tax since 2009.
The official system makes no sense!
Whether it is through user pays or other ways, more of our public services and resources are moving to corporate-style profit-making entities with a cost to human rights and finances.
Making private-for-profit entities accountable for human rights violations can mean navigating a multitude of barriers such as trade secrecy across multi-layered conglomerates.
I wonder if it is easier to make our democratically elected governments accountable for protecting and sharing our public services and resources.
Are there other models?
Whether public or private or 'other', fees and fines are a common weapon of choice to restrict public gatherings and dissenting voices.
In response to attacks on activist freedoms, Rorris suggests we go by elder protester Fred Moore's saying, 'when the workers take to the streets, the streets belong to the workers'.
That sounds about right.
The value of large public peaceful protest is not only as democracy in action, but how will authorities ever do the paperwork around fees or fines for marching members of a mass movement?
South Coast Labour Council logo used with permission of SCLC.
The black and white image at the top of each of the 'Port, Poles and Wires pages, of Port Kembla with poles and wires, is a detail of Kathryn Orton's lithograph, 'Greetings from Coniston'.