SHARON CALLAGHAN
Outlawing Lingering
You might be lingering but someone could say you are lurking. You might be dawdling but others could accuse you of skulking. Hanging around somehow became loitering and in 1998 on the spot fines of $110 could be yours under a proposed anti-loitering trial in Port Kembla designed to move certain people out of designated areas.
The local community legal centre lobbied to get rid of the trial and represented those fined under the new laws. The centre convened ICAPS (Illawarra Community for Public Space) and ICAPS organised a Loitering Festival to highlight the injustice of targeting specific groups of people via new anti loitering laws. A mass community loitering event would highlight the unfairness of picking off individuals for loitering.
ICAPS members wanted lots of different groups in public spaces to loiter and collectively challenge laws designed to push some people out of sight.
In 1998 when ICAPS member Nick Southall wrote for Broad Left quoting the local police sergeant that the new anti-loitering laws in Port Kembla targeted 'druggies, prostitutes, hoodlums, rebel rousers and the like', he pointed to the risk of police bias and harassment falling on specific groups of citizens.
It is poor lawmaking when being young, homeless, addicted, or poor doesn't inspire decision makers to look for solutions but rather add a new layer of laws like anti-loitering. These new laws are simply designed to push the problem out of view and punish some groups.
Some time later during one of my presentations at a local high school, a young Aboriginal school student emphatically reminded me that of course he knew he had fundamental rights by law. Then raising his brown arms he said, "but you don't press those rights when you are young, my colour and live in this neighbourhood". Adding, "well, not if you don't want a heap of trouble".
So for this kid to amble idly down a public street could mean trouble. Dropping a cigarette butt, swearing or being vague can add to your woes. The system is surely broken if a stroll to the shops to get a pie and carton of milk can turn you into a criminal.
Using anti-loitering laws to fine sex workers, local Aboriginal community members, drug users and to intimidate their support workers redefines what can happen in a shared public space.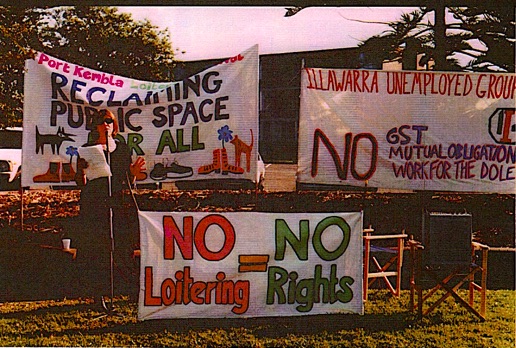 During the anti-loitering trial the local community legal centre reported police telling local residents to go inside their home when they were standing outside their front gate. A shopper giving directions to a motorist was warned about loitering. A bloke who bought a meat pie from the all night pie shop sat in his car to eat it, before three police vehicles surrounded his car. Police instructed him to get out of his car, searched him, threw his pie on the ground and directed him to leave the area after showing him the no loitering sign. As the bloke drove away after his encounter with the police, he noticed a friend driving to the pie shop and he returned and waited for him to buy the pies as they agreed to meet up at the friend's place. The police approached again and gave the late night pie-eater, who had no criminal record, a no loitering infringement notice. Seriously!
The Community Legal Centre and barrister Tim Robertson successfully defended the man with the pie. However, a police error saw their case dismissed. The man with the pie was in a parking lot not covered by the No Loitering sign. Community action did win out though as local Council decided not to continue with the No Loitering trial. What an up and down ending to the late night pie saga!
In recent years I have sat in the gutter of public streets to draw, have a picnic, and chat. I have left my train ticket to Wollongong in my purse in a café in Sydney and was assisted by rail workers to evade the ticket inspectors. My public antics, by virtue of my age, colour, gender and current class markers, do not make me a target. When I am wearing a political t-shirt, carrying a placard or flag, while peacefully and lawfully protesting, then the story can change quite dramatically.
And what is the story about privately owned or operated shopping centres and malls and public space? These public spaces often house essential government services as well as grocery and other shops. Most of us are excessively wooed to enter shopping centres with special offers, price sales, reward cards and loyalty gifts.
When young or homeless people mooch around shopping centres, it is not uncommon to see them shooed out by security guards. Even classical music has been piped to popular after-school shopping centre hangouts as a deterrent.
As a community worker or as a social activist I have sought permission to leaflet in what I understood to be public malls or shopping centres. As a community worker I had some success if the theme was deemed acceptable, say White Ribbon Day. As a social activist I have had little or no success trying to hand out anti-war flyers.
We need to ask who decides who can be in public space? Who decides what activities are unsuitable for public space? The line between public and private or controlled areas gets blurred and constantly regulated by changing or new legislation. New laws targeting coal seam gas protesters were increased tenfold in 2016 to quote the then premier Baird, "anyone that wants to disrupt a business or ultimately act illegally … well we've put these measures in".
No loitering laws, like upgraded trespass and graffiti legislation, along with extreme restrictions on industrial action and strikes, all vigorously serve the interests of those seeking to shut down demands for human rights and social support and justice. These restrictive measures can be ramped up beyond prevailing laws to protect corporate profits, control and silence certain groups of people and criminalise fair and reasonable actions. As we know, simply heading down to the pie shop can be considered unlawful!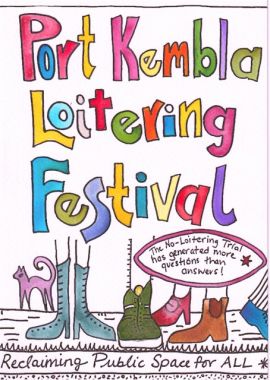 Poster art by Sue Bessell and Valerie Law (used with permission of the Illawarra Legal Centre)
The black and white image at the top of each of the 'Port, Poles and Wires' pages, of Port Kembla with poles and wires, is a detail of Kathryn Orton's lithograph, 'Greetings from Coniston'.