KIM SHANNON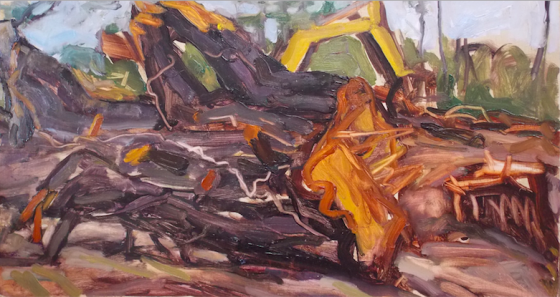 These images are in response to the large amount of private development in the Southern Highlands. The apparent prioritisation of dollar over environment with little sensitivity to the natural beauty of the landscape and in turn degrading the character of the towns and villages.
The division of the land which was once rural open space and some public lands which have been sold to private developers, for urban development. With this comes the wholesale clearing of the trees and vegetation (the consequences of this are well documented), and then the inevitable infrastructure; roads carved into the landscape, poles and wires traverse it and pipes laid underground, the land is graded and levelled, the houses built are grey rooved and cheek by jowl, looking just like urban development everywhere and the character of this area is lost.
The black and white image at the top of each of the 'Port, Poles and Wires pages, of Port Kembla with poles and wires, is a detail of Kathryn Orton's lithograph, 'Greetings from Coniston'.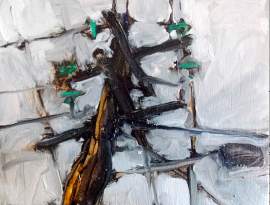 Above: Oxley Drive 2576 (oil on board). Left: Queen Street 2576 panel 2 (oil on board). Below left, Queen Street sketch (pencil on paper).