NIKKI MAIN AND RACHEL BOLTON
Forgotten Promise
Cast glass by Nikki Main. Essay by Rachel Bolton
Forgotten Promise: a history of public property at Hill 60
Rachel Bolton
This essay attempts to complicate a binary division between private and public ownership by exploring how notions of public property can be exclusionary. It does so by re-telling the history of the acquisition of land for public purposes on Illowra (Hill 60, Port Kembla) during World War II. The history is here told as an encounter of laws, a meeting between two different jurisdictions, or domains of legal authority. And the essay tells the story from the perspective of the common law (the jurisdiction in which I am trained). At the heart of this story is a forgotten promise: that a parcel of land on the side of Hill 60 would be returned to the Aboriginal people who had been living there, after the war. Retold as a meeting of jurisdictions, this history reveals how notions of public property continue to exclude and deny the jurisdiction of Aboriginal and Torres Strait Islander people. This is not a problem that can be fixed by a transfer of land title from public to private, or vice-versa. It is a problem that can only be fixed by another encounter, or meeting, of jurisdictions.
Between 1787 and 1856, the governors of NSW were authorised to make grants of land to settlers, emancipated convicts and military officers within the colony. This authority came from the British crown, in the form of delegated prerogative power contained in commissions and letters of instruction issued personally to each governor as they were appointed to office. The governors' authority to grant land therefore derived from and extended the jurisdiction of the English common law in NSW. The common law determined how English law should be applied in its colonies and how the crown could delegate prerogative power to colonial governors. The common law also provided the basic structure that set out what kinds of interests in land the governor could create and how those grants would be made.
In turn, the grants of land made by the governor extended the jurisdiction of the common law by binding the soil, trees, rivers, lakes, coastlines and sand to the common law as property. To transform land into property was to deepen the common law's reach into place, bestowing upon British subjects, now landholders, the right to use, to clear, to farm and to exclude others from the land/property, which was theirs by rights created and authorised by the common law jurisdiction.
Illowra, now known as Hill 60, located in Wodi Wodi country, was first transformed into common law property by a promise of land made by Governor Macquarie to David Allan in 1817. Allan was a colonial officer, who owned and managed his land at a distance. It was not until several years after Allan had departed NSW for his next colonial appointment in Barbados that he sold the property. Eventually the property was bought by Charles William Wentworth in 1828, when it was renamed "Five Islands Estate". In 1900, however, the NSW state government resumed 500 acres of that land for construction of a port, including a large portion of land at Hill 60. In 1909 the Commonwealth government acquired from the State government a parcel of land on the side of Hill 60 for "military purposes". Between 1900 and 1909, Hill 60 was transformed into public property, taken out of private ownership by the State government and then transferred to the Commonwealth.
Despite these transfers of paper title within the common law jurisdiction, Aboriginal people continued to live at Hill 60 up until 1942. The common law operated in ignorance or denial of pre-existing jurisdictions, the domains of legal authority belonging to Aboriginal people. The common law grants of land were not encounters of law between the common law and the jurisdictions of the Wodi Wodi people. Rather the grants of land were an imposition of an alien jurisdiction, effected by paper documents and then by physical presence on the land. The force of these paper documents, however, cannot be underestimated. As Latour writes:
La Pérouse's map is not the Pacific... This is precisely the paradox. By working on papers alone, on fragile inscriptions which are immensely less than the things from which they are extracted, it is still possible to dominate all things...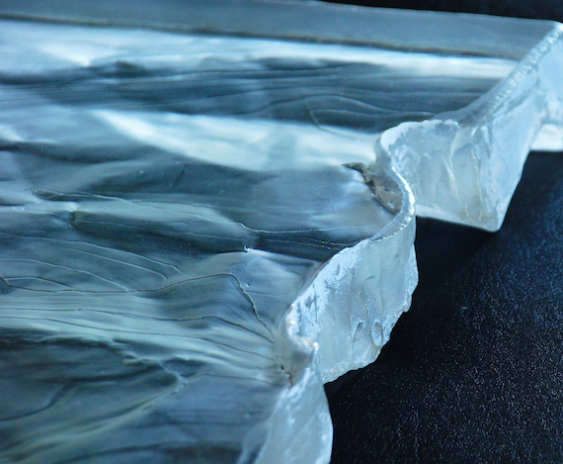 At this intersection of paper and land, this essay complements Nikki Main's glass piece. Simultaneously fragile and strong, the glass represents both paper and land. The paper, the form of official documents and promises in the common law, has been forgotten, however. It is crumpled and discarded. All that remains of this official promise is a frozen parcel of land, hiding within its surfaces, depths and edges.
In 1942, Aboriginal man Roy Burns recorded a meeting between himself and an officer of the Australian Army. The people living at Illowra had agreed to temporarily relocate from Hill 60, understanding the Army's request that the land was needed for military purposes. This was no blunt use of force; this was a meeting of jurisdictions in which an agreement was made.
The officer in charge gave us 6 days to move from Hill 60 and he informed me that if I left my place it would be cared for and I could return to it after the War….Now sir, they are burning some of the places left on Hill 60.
Here was a meeting in which there was discussion and agreement between two persons, each belonging to a different jurisdiction. The meeting was, at least potentially, not necessarily a moment of colonial conquest or violence, but a moment of discussion and promises. The community would move for the duration of the war and afterwards the land would be returned to the jurisdiction of the Aboriginal people living there. However, the promise was not kept. Houses were burnt. After the war, the people living on Hill 60 were not allowed to return. The parcel of land stayed in public ownership.
In 2006, the Commonwealth Government offered Hill 60 up for sale. The Department of Defence engaged a local real estate agent to advertise the property for sale as a "prime development site". Community outrage ensued, led by local elders, and the planned privatisation was halted. Instead, the land was sold to Wollongong City Council for $1.
Although the parcel of land on Hill 60 remains in public ownership, it is a form of public ownership that forgets, excludes and ignores the continued jurisdiction of the Wodi Wodi people. This is not a problem that can be completely repaired by another transfer of land within the common law system of NSW. What is required is another encounter of laws, another meeting of jurisdictions, in which promises are made and not forgotten.
I gratefully acknowledge Coomaditchie United Aboriginal Corporation's permission to include the quote from Roy Burns, cited in Michael Organ's The Fight to Save Illowra.
References
Coomaditchie United Aboriginal Corporation website:
https://www.coomaditchie.org.au/resources
Michael Organ The Fight to Save Illowra ("Hill 60"): Aboriginal Land at Port Kembla, available at: https://www.uow.edu.au/~morgan/hill60.htm
B. T. Dowd (1977) "The first five land grantees and their grants in the Illawarra" Illawarra Historical Society, Wollongong. First published 1960, republished 1977, available at: http://ro.uow.edu.au/cgi/viewcontent.cgi?article=1000&context=ihspubs
Nick McClean "Aboriginal families living on Port Kembla's Hill 60 in the 1940s were removed and never allowed to return" (4 July 2016) ABC Illawarra Online News, available at: http://www.abc.net.au/news/2016-07-04/aboriginal-family-life-on-hill-60-port-kembla-1940s/7565606
A History of the Aboriginal People of the Illawarra 1770 – 1970 (2005) Department of Environment and Conservation, NSW Government, Sydney.
Shaunnagh Dorsett and Shaun McVeigh (2012) "Conduct of Laws: Native Title, Responsibility, and Some Limits of Jurisdictional Thinking" 36 Melbourne University Law Review 470
Shaunnagh Dorsett (2017) Juridical encounters: Māori and the colonial courts, 1840-1852, Auckland University Press.
Bruno Latour (1986) "Visualisation and Cognition: Drawing Things Together" in H. Kuklick (ed) Knowledge and Society: Studies in the Sociology of Culture Past and Present, Jai Press vol 6.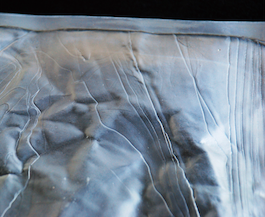 Above and below left: Nikki Main, Forgotten Promise (cast glass)
The black and white image at the top of each of the 'Port, Poles and Wires pages, of Port Kembla with poles and wires, is a detail of Kathryn Orton's lithograph, 'Greetings from Coniston'.