SHARON CALLAGHAN
Why a Community 'Red-Flagged' the Privatisation of Port Kembla Port
Port Kembla opened its port in the late 1890s to ship local coal. Up till then, Aboriginal-operated commercial fishing was a key business.
In the late 1800s coal companies build private jetties at Port Kembla harbour and rail links to ship their coal. The 1898 Harbour Act allowed the Government to resume ownership and the early 1900s had shipments of coal, coke, iron and ore cargo from Port Kembla. The Port's imports and exports diversified with the export of coal and steel products leading the way.
The steelworks began operating in 1928 and by the 1950s Port Kembla was the heart of the district with shops and businesses lining crowded streets. So busy was Port Kembla's main street my mother secured me to her by a kids harness for fear of losing her toddler to the crowd.
Port Kembla and its port has always held the heart of locals through comradeship with those who sweated out a living from the port, steel-making, coal mining, seafaring and stevedoring while building neighbourhoods and community supports.
Today the Port precincts of the inner and outer harbours have multiple berths, various specialised cargo facilities, and an array of licenses and leases for shipping services that collect revenue for the Port's owners.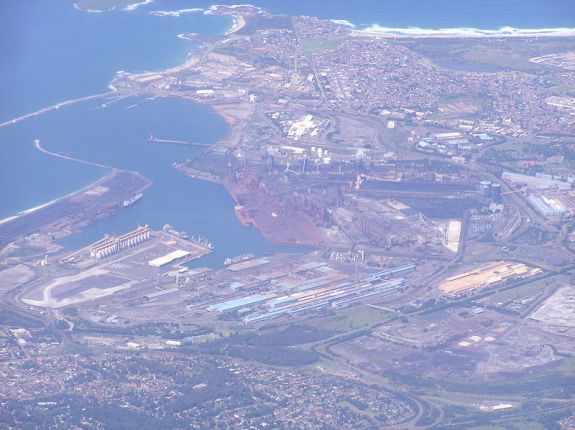 Port Kembla Port's profit is $50 million a year and predicted to increase.
Despite its commercial success, or perhaps because of it, the state government decided to lease the port to the highest bidder. The lease was for 99 years, far beyond the lifetime of residents or politicians, and was tantamount to selling the port. In 2013 a private consortium, NSW Ports, won the tender, paying $760 million for the 99-year lease.
In everyday life a red signal means STOP or a red flag alerts us to danger. The red flag, a common metaphor indicating concerns or questions to be asked, definitely applies to the privatisation of Port Kembla Port.
The news of the privatisation of Port Kembla Port in 2012, meant not just one red flag went up but hundreds. Local citizens raised actual red flags signalling their concerns about the privatisation of Port Kembla Port. To me it was more that an interesting protest visual but a heartfelt plea for government reps to answer community questions on the privatisation of the Port.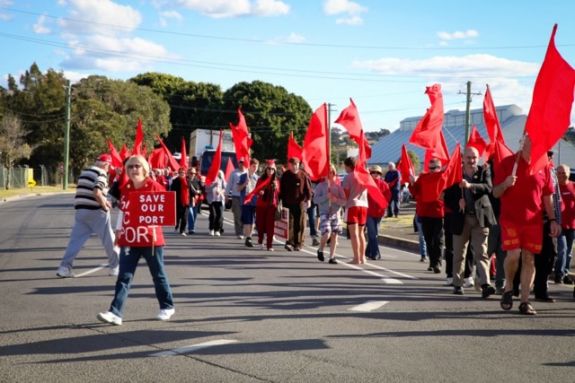 Residents protesting the Port privatisation were concerned about funding for schools, hospitals, essential services for their families and future generations. Yet governments, without consultation, decided to privatise the profitable port for short-term cash.
The privatisation of Port Botany and Port Kembla together gave the NSW State government a capital boost of $5.1 billion.
The government ­­pro­mised $100 million from the privatisation for Illawarra infrastructure. Locals weren't fooled by this obvious attempt to bribe their acceptance.
The Ports privatisation led the infrastructure sell-offs of billions of dollars including many NSW government-owned historic buildings and Miller's Point public housing.
For the most part I have trusted governments to be custodians of public resources, particularly those that generate jobs and are sustainable sources of funds for essential services. I have faith the democratic political process will let me and future generations have a say in how we protect and build shared resources.
I can't see that working under a privatisation model.
Ports Minister Duncan Gay denigrated opponents of Port Kembla privatisation, saying, "The critics frankly have been indulging in voodoo economics".
It wouldn't be the first time a politician facing public scrutiny ridiculed critics to silence them.
Ten thousand people petitioned the government to stop the privatisation of Port Kembla Port.
The red flag waving locals protested the privatisation of Port Kembla Port because there were shiploads of unanswered questions.
The big question was why privatise a port that was a stable source of revenue for state government coffers?
One question queried the then Premier Baird's decision to scrap limits on the number of containers that could be transferred through these ports. At the same time an additional financial impost was placed on any future increase in container movements through the port of Newcastle. This would give the new owners almost total control of container shipping in the state.
Garry Keane, Branch Secretary of the Maritime Union of Australia (MUA), reminded me that over 95% of Australia's international trade moves by sea. Port Kembla and Port Botany are vital gateways to the international economy.
There's a question right there. Don't competition laws regulate how companies monopolise the market?
Premier Baird announced that maritime safety and security functions would stay with the government. It seems the public would be responsible for dealing with contamination disasters and traffic control.
Do private owners/leasers have any responsibilities for environmental disasters and other risks around operating a port?
It was Joseph Stiglitz, professor and Nobel laureate, who said 'if you privatize the gains and socialize the losses this is a bad model'. Easy to see why locals red-flagged this privatisation deal.
Keane fears that, once privatised, Australian ports can be passed to other investors and vulnerable to the whims of various companies. He notes there is no strategic national ports approach or regulation. Given the tendency for trade secrecy the question is, are the appropriate environmental and necessary safeguards in place?
Keane wants to stop the misery around ships that sail under a purchased Flag of Convenience. International ship owners choose to fly a merchant flag and register their ship in a foreign country to get around safety or pay standards. Many of these FOC ships are rust-bucket operations that put all seafarers at risk.
This maritime unionist is greatly affected by seeing overseas seafarers paid as little as $1.25 an hour working under horrific conditions. Australian workers are forced to compete in this exploitative global market. Keane wants protections for international seafaring colleagues vulnerable to exploitation and human rights abuse.
The government's decision makers said they wanted the money from the privatisation to build different kinds of infrastructure around NSW.
Critics of the Port privatisation said the NSW government was obsessed with a budget surplus to keep their AAA credit rating. Here's the thing. In the global financial crisis, credit rating agencies were found to be compromised, giving top ratings to dodgy enterprises. Red flags were raised.
The Wollongong Town Hall community-organised forum on privatising Port Kembla Port was seeking genuine answers. Minister Pearce did not provide reassurance when he said a 99-year lease meant the Port stayed with the people and the State. Concerned citizens in the hall knew that meant four generations would miss out on benefits from the Port's profitable operation.
Questions kept coming at the Town Hall forum. Why would the State that owns this profit-making asset decide to ask private business sector entities to borrow money to buy or lease this asset to make their profit?
What about transparency as citizens can't use Freedom of Information on private companies, asked another? The Minister said to use annual and government regulators' reports. My experience trying to fathom such reports told me this response didn't cut it.
Would there be guarantees that the promised $100 million would go into Illawarra infrastructure? The questioner noted there was little consolation if it did as it felt like a bribe.
Then came the question of the night, powerfully simple and obvious, triggering a wave of acknowledgment that rippled around the room. The late Graham Larcombe, an economist, said, 'public ownership of strategic assets is best served by asking what will boost regional jobs, transport and education infrastructure. We have to turn our thinking around and not focus on government surpluses but start with goals that serve the people.'
Private enterprise representatives tell us they have shareholders and executive interests to serve. Their model doesn't advocate keeping people in jobs or sharing profits for vital public services.
The new bottom line could be governments consult the people, set goals for every district and assess how our publicly owned assets can achieve those goals.
Sounds like a plan that wouldn't attract a red flag!

Port Kembla history from Wollongong library references including A Living History Port Kembla.
Thanks to Michele Mack for her drawing response to our recent conversation on the privatisation of Port Kembla Port (above) and to Brian Martin and Garry Keane for valuable comments.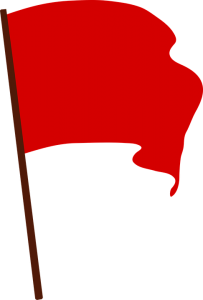 Above: Arthur Mignon 2017 (Mouvement Français pour un Revenu de Base www.revenudebase.info) CC
Left: Aerial view of Port Kembla own work of Graeme Bartlett 2008 CC 3.0
Below left: Photo by R. Worthington 2012.
Bottom: Drawing by Michele Mack 2018.
The black and white image at the top of each of the 'Port, Poles and Wires pages, of Port Kembla with poles and wires, is a detail of Kathryn Orton's lithograph, 'Greetings from Coniston'.
CC signifies reproduction under Creative Commons licence. All other work on this site is copyright (C) the artists and writers.